Advertisements this spring often are using the phrase "in these uncertain times."
Most of us are already aware of the current state of unpredictability.
Scientists, researchers and infectious disease experts are studying the COVID-19 coronavirus, laying the complex groundwork for finding treatments and eventually a cure. Yet, they're still uncertain whether the pandemic will subside, resurge or end. Workers laid off during statewide shutdowns are uncertain whether their jobs will return. Essential workers are uncertain if they'll be infected while doing their jobs. Sons and daughters worry about the health of their parents. Adults worry about the well-being of their kids and grandkids.
Yeah, these are uncertain times all right.
Uncertainty over health care access for Americans became a prime topic of presidential candidate debates last winter, as the cureless coronavirus spread throughout the world and to the U.S.
In west-central Indiana, April Cash and her colleagues at the Wabash Valley Health Center in Terre Haute provide free guidance and connect the uninsured with health care coverage options. Cash serves as a navigator at the Locust Street facility, a federally qualified health center, handling people of all income levels.
The navigators guide Valley residents through enrollment for health care coverage through the state's Healthy Indiana Plan (HIP), the Children's Health Insurance Program (CHIP), and the Affordable Care Act (better known as Obamacare) marketplace.
A phone conversation with a health center navigator is a prime service right now. Resources to pursue health care coverage online are limited for folks in need, with pandemic precautions shutting down outlets like public libraries. Answers and assistance are still available through the Wabash Valley Health Center's phone lines.
The center's state-certified navigators can also connect callers with other services, such as applying for food stamps, Catholic Charities or veterans assistance.
That opportunity to help inspires Cash.
"That's one reason I enjoy doing applications so much," she said Thursday. "Those conversations sometimes open a door to other things that are going on, and shows needs in our community."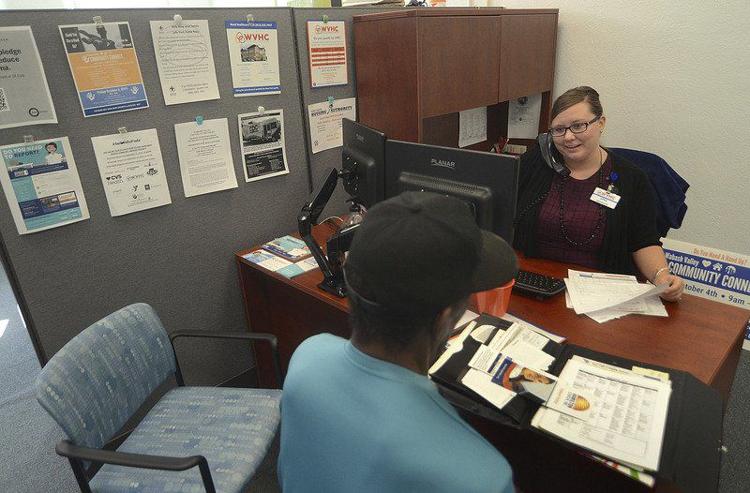 People seeking health care coverage, perhaps for the first time, have ticked upward recently. That quest can be daunting. Navigators such as Cash, as the job title explains, help people navigate that process. The average person's first venture onto the Affordable Care Act marketplace's HealthCare.gov website can be confusing, Cash said. The tax credit, which can lower coverage premiums, can be perplexing.
"It can be intimidating going onto that website," Cash said.
Navigators ease the search. They explain health care options, the varying out-of-pocket costs and whether an individual or their children qualify under the income limits for the HIP or CHIP programs. Folks who don't qualify for those programs can be guided by navigators through the Obamacare marketplace.
Health care coverage and its need have risen again into the public consciousness. Twenty-six million Americans have lost jobs during the pandemic, including millions with employer-based insurance. More than 517,000 Hoosiers have applied for unemployment benefits since mid-March, the U.S. Department of Labor reported last week.
Also, 28 million Americans were already uninsured when the pandemic hit, The Associated Press reported this month, but many didn't sign up for Obamacare before the enrollment period ended in mid-December. The Trump administration faces pressure to reopen ACA enrollment, but hasn't yet done so.
Possibilities for coverage exist with Indiana under a state of emergency, though, for those who qualify for the state's HIP program. HIP covers more than 400,000 Hoosiers, growing in 2015, when then-Gov. Mike Pence adapted a Medicaid expansion through Obamacare for Indiana. Under HIP, individuals with annual incomes up to $17,829 and couples up to $24,078 may qualify. Others can explore coverage on the ACA marketplace.
The process begins with a call to the Wabash Valley Health Center (812-232-7447) to schedule a phone appointment with a navigator. People seeking coverage will need to drop off at the center a few documents — a birth certificate, birth dates for all members of the household, Social Security numbers for the applicants, and a pay stub from the past 30 days.
Access to health care coverage "can literally be life-changing for folks that sometimes have insurance for the first time," said Charlie Welker, the health center's CEO.
One fewer uncertainty matters right now.
Mark Bennett can be reached at 812-231-4377 or mark.bennett@tribstar.com.